The Easiest Saddle Fitting Ever
The Easiest Saddle Fitting Ever
When I wrote my 2015 goals, I mentioned that I wanted to confirm or deny Simon's saddle fit this year.  It seemed like a huge task, because I wasn't thrilled with the fitter I had used previously and basically bought my saddle on the internet site unseen by a tack store employee looking at a few pictures of Simon's back.  Recipe for success, right?
Luckily an awesome blog reader (thank you!) recommended another local fitter to me, so I happily made Simon an appointment to address some issues I'd been seeing.  Mainly, his saddle slips back a lot farther than I'm comfortable with post ride.  Also, some saddle pads bunch and gap behind my leg during our ride.  I had read that saddle pad movement could be a sign of poor fit, and just decided it was time to get a professional to look at him before I tried to force the saddle in place with a breastplate and a no-slip pad.
Also, being a heavier rider I feel like it's extremely important for me to stay really on top of saddle fit.  Though fit is important for any horse & rider, if I'm not exactly the lightest rider in the world and my horse doesn't exactly have the strongest hind end out there… it's time to call in the pros when it comes to our tack!
To make a somewhat long blog post short, Simon's saddle fit is really quite good!  The fitter apologized for being boring, but I would much rather have a boring diagnosis than a complicated, expensive one.  Plus one point for boring!
I asked her a lot of questions and found her feedback very educational, so I will share with you.
First, she took a look at my saddle.  She thinks my Prestige Roma Jump is flocked with a mix of foam and synthetic material (possibly just synthetic wool).  The flocking should be pretty squishy, as in I should be able to easily poke and squeeze it with my finger.  Right now my flocking looks good, but I need to watch the area in the middle of the seat which allows room for his spine.  It's slightly less squishy in that area, so need to have it re-checked in 6 months.
Next we talked about where the saddle should go on Simon.  Me being from hunterland, I was putting the saddle too far forward to begin with.  Simon has a large shoulder, and the point of the saddle needs to go behind his shoulder.  Turns out it was slipping back to where it needed to be, so I'm to start that process out less far forward to begin with.  Problem 1 solved.
Problem two regarding my bunching saddle pads isn't a problem at all really.  Ever since I've had him, Simon has a dip below his withers.  It's worse on the right than the left.
Turns out, this dip is one of the last muscles to develop in a horse's topline.  Now that he's maturing and growing more muscle from flatwork bootcamp, we should expect that muscle to fill in more.  Until then, certain saddle pads that don't have enough wither clearance are going to bunch and shift in that gap.  This, combined with my "clinging for dear life" lower leg, are causing some of my saddle pads to move and slide.
So what's the verdict for us?  I'm to keep my simple cotton Thinline pad, because she wants the least bulky pad possible under his saddle.  His overall fit is very good, although it's a smidge long for him and the potential to be a smidge tight around the top back of his spine depending on how the flocking holds up.  I need to switch to baby pads and thinner square pads, and make sure they have wither clearance.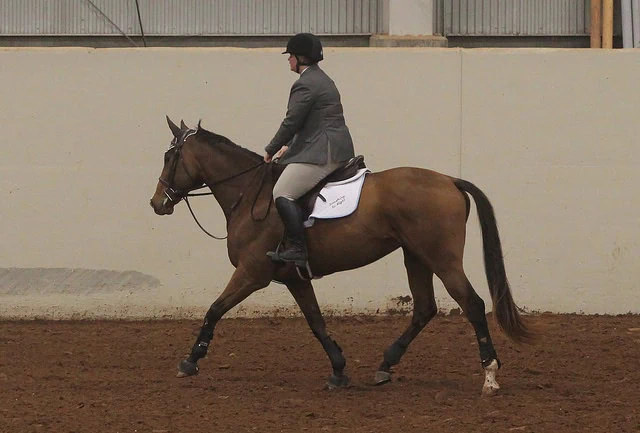 When the dip in his withers muscles up more, I will need to widen my saddle.  Luckily, Prestiges can move up to 2 cm in either direction… so that shouldn't be a problem.
Now I get to buy some new saddle pads and put my saddle worries behind me for another six months!