Fancy Saddle Shopping – CWD
Fancy Saddle Shopping – CWD
As I mentioned last week, I'm in the market for a new saddle. One of my friends told me that she was going to live vicariously through my saddle shopping, which made me figure that it would be a decent process to blog about. Plus, I can't write depressing broody content everyday… right?
The first company I had come out to fit me and Simon was CWD. People seem to either love or hate the company, but I'm a big enough fan of French saddles that I decided I needed to have them come out. Plus our local rep is someone I had previously met through riding and our local tack shop. I had enjoyed her demeanor and knowledge in the past, and thought she'd be a great person to contact first.
In the spirit of full disclosure, I told her when she first came out the barn that:
I was looking at other companies as well
I had heard some not so great stories about CWD
I wanted to blog about the experience (and asked her permission)
We chatted briefly about some of the not-so-great CWD stories I had been told. Her opinion was that a lot of the saddle experience depended on who your rep was, and that some reps had a not so great post-sale relationship with clients. Like I mentioned earlier, I knew the rep and personally liked her so the explanation made sense to me.
The fitting started with me pulling out my current saddle and basically saying, "This saddle and I were never meant to be. I hate it." If that's not a great way to entice a sales rep… I don't know what is. She placed the CWD 2G next to my Prestige, and explained to me the differences in construction with a CWD versus some traditional saddles. These include…
Special rolling of the leather/stitching across the pommel so the seams lay flatter, and therefore don't rub as much
Panels made of angular memory foam, which molds to the horses's back and is constructed in a way that matches the curves of their body
Panels are sewn directly onto the flap so it lays flatter and has a closer contact
Recessed stirrup bar so you don't feel as much as a bump where your leathers go
Some kind of cut back flap (forgive my oh so technical terms) near the girth for a closer contact
Extreme flexibility in the shoulder area so the horse has more freedom of movement
This part of the pitch was extremely thorough. She answered all my questions and provided a lot of information. I should have probably taken notes, but I imagine all of this is listed on the CWD site if you're extremely curious. I will say that having the two saddles next to one another made it painfully clear which one was better made and sat at a much higher price point.
After we chatted, she went on to fit Simon. Truth be told, I'm no great expert in saddle fitting. I felt like what she did with him was a little bit on the general side. She placed the saddle on his back, checked the pinch of shoulders and wither clearance. After explaining a few things about the general fit to me, she said that she would like him in a regular panel with two modifications – "two bumps up" on the withers to give him more wither clearance for his shark fins, and some foam shaved off of the shoulders to accommodate for his wide shoulder. Like I said, I'm no fit genius but the demo saddle she had laid nicely on his back.
Since I have this pipe dream that Simon might eventually fill in his topline more over his back and wither area, I asked about what happens if he muscles out and outgrows his saddle. She said that panels can be modified for around $300, and if a horse would need entirely new panels than she thought that cost around $600. Neither of those figures is pocket change, but it's certainly less than a new saddle and the low end is comparable to some prices I've been quoted for re-flocking on a wool saddle.
We discussed leather quality and options, and she told me the order of price goes Grain -> Full Buffalo -> Full Calf. The grain saddles are standard, and come with a calf seat and flaps. She said that while calf leather is very nice and super sticky, it doesn't hold up as well as the other options. Grain is the most durable, and she mentioned that many pros like Buffalo since it is sticky but more durable than calf. The grain saddles come with calf knee rolls and seat, and if I wanted to go even more durable I could sub out the calf leather on the seat & knee rolls for buffalo at no extra cost. I'm not a huge leather snob, but it was nice to learn about the differences and hear my options.
Finally it came time to sit in them. She had two demo saddles with her to work for my purposes. One was the 2G in an 18″ medium deep seat with a forward flap (I want to say it was 3C but don't quote me). This is by far the more expensive saddle, because it has a fancy smancy tree. The tree of the 2G is made of carbon fiber and she compared it to a snow ski. It will bend and flex a little bit to essentially move with the horse. This model also has a gel seat, and some other pretty techy features for a saddle. I asked if you had to have the giant plastic CWD branding, and she told me the hunter version covers it at leather for no extra cost.
The first thing I thought when I sat in this saddle is, Damnit of course I like the expensive saddle.
Guys, guys – the tree feels SO COOL. It was unlike any other saddle I sat in. It felt like the pommel and the cantle were no longer solid, and I had an extremely close feel of my horses' back. One strange side effect is that my stirrup leathers actually felt a hole too long in this saddle, and I had to raise them up one. Once I did, everything felt damn near perfect.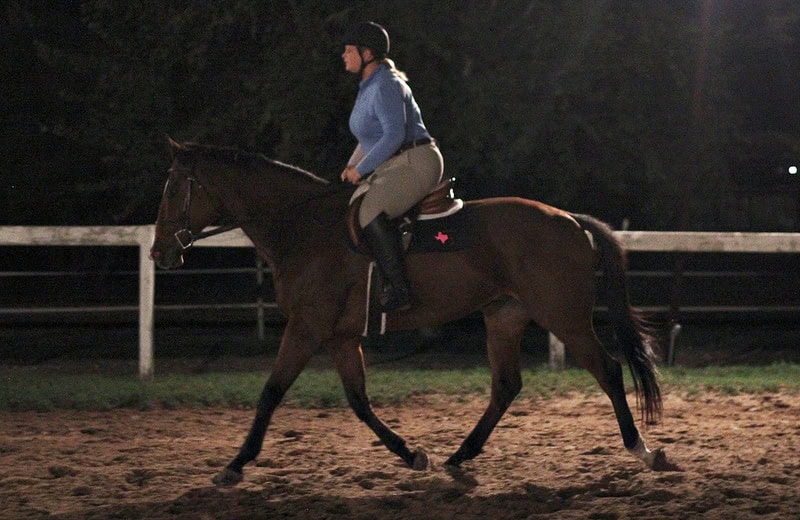 Riding in it, the balance was excellent. While my Prestige kind of wants to throw me out of the tack every time I post the trot, the CWD 2G whispered to me. It said, "Relax… stay close to me… it's a great place to be!" I found the canter was easy to sit, but I could also easily get out of the saddle to jump around.
What did Simon think? He basically thought "THERE ARE PEOPLE WATCHING ME AND IT'S DARK AND I'M OH SO FANCY WOW LOOK AT ME THIS IS THE BEST RIDE EVER WE'RE JUMPING WITH VERY LITTLE DRESSAGZ!"
Needless to say, Simon is not much help in the decision making process.
After I rode around in the 2G, we switched to the classic CWD model. The main reason for switching was to evaluate whether I liked the medium deep seat or the flat seat, and my rep warned me to try and ignore the seat size (too small) and the flap (wrong for me). Even though I tried to ignore these factors, I didn't like the classic version at all.
The flat seat pitched me forward, and it just felt like a ho hum regular ill fitting saddle. Nothing special. No rainbows. Nada.
Simon? He was still power trotting all, "I GOT INJECTED LAST WEEK AND I FEEL GREAT AND IT'S NOT RAINING AND WOW LOOKIEMEEFAAAAAAANCY"
Again, no help.
I got off and talked to the rep about my thoughts. Basically it boils down to this:
I loved the 2G, but holy crap that's an expensive saddle
I like Grain leather, don't need anything fancier than that
My horse thought these were acceptable options
I want to try other brands still
How I left it with her is that a roughly $2k price difference between the two saddles was not something I was willing to speculate on. I wanted to try a very similar version to the 2G that I sat in. Basically do more of an apples to apples comparison to see if it's the magic carbon fiber tree that I loved so much, or the correct seat & flap. She's going to work on finding me a comparable CWD Classic to sit in, and we're going to do another test ride.
What does my gut tell me? That I like the fancy tree. Of course I do. I love expensive things!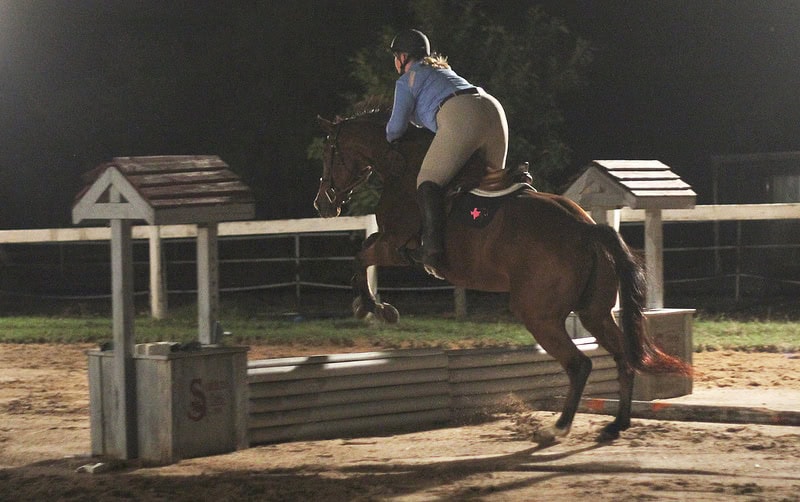 This was a great intro to premium saddle buying, and I'm really excited about the entire shopping process now. Next on the docket is County!