Product Review – Horze Crescendo Orion Combi Wraps
Product Review – Horze Crescendo Orion Combi Wraps
It's been a long time since I've done a product review, but with things returning to more normalcy around here I would expect to see more of them in the future. Today I'm back with a new product from Horze.
While I will be the first to admit that I'm not a huge polo wrap fan, I thought the design of the Horze Crescendo Orion Combi wraps might change my mind. It's not that I hate polo wraps, but I'm generally lazy as all get out when it comes to tacking up. The fewer straps and wraps and things I have to buckle – the better. I mean, I barely ever school in my standing martingale anymore… ain't nobody got time for that.
Still, I was intrigued by these polos. They are a combination of fleece and elastic that I haven't seen before.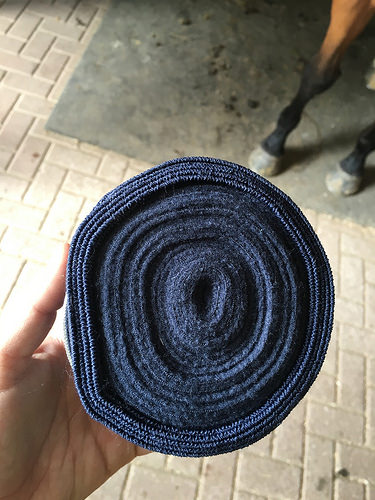 On the outside, these polos put together a professional presentation for the jumper ring. I ordered the Midnight Blue (which they don't seem to have in stock right now), but Horze offers other less traditional colors for the adventurous people out there. The finishing details of these elastic polo wraps have fine silver piping and a silver seal. Note – the stock photos on Horze are slightly different from what I got. They show a silver tag sewn on, but mine have a hard plastic medallion with a clear plastic color. I think mine are nicer, but they're a tad flashy for my tastes.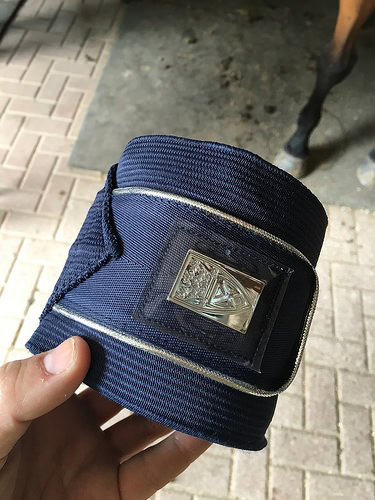 The polos are about 80% thin fleece and 20% elastic. They meet together in a well sewn seam that isn't too thick.
The elastic part is really stretchy. It could probably stretch triple its original length. When I put these polos on, I felt they were very long for Simon. Maybe if you had a giant Warmblood you'd need the full length, but I imagine many people will want to cut them down some. My first wrap attempt looked okay to me, but my barn mate said it was a fail.
She redid them for me, and the wraps did look better.
During my ride they stayed tight and just how I she did them. The outer elastic parts make it easy to get a very snug wrap on your horse, which is nice.
At $30, I think these are nice wraps for showing if you like polo wraps to begin with. If I was picking out matching accessories for jumperland or something snazzy for a clinic, these would be a good choice. They look and fit a lot better than cheap polo wraps I've used in the past. For me, they didn't sway me so much that I would abandon my Equifits for them. If you want to get yourself some fancy elastic wraps, you can pick up the Crescendo Orion Combo wraps at Horze.com.
What about y'all – are you team boot or team wrap?