Product Review – Horze Novara Bridle
Product Review – Horze Novara Bridle
Some of you may have noticed last week that I was schooling Simon in a dressage bridle.
No, we're not moving to the dark side… but we were reviewing a dressage bridle from Horze!  I've actually never bought, borrowed or used a black bridle with a flash attachment, so this was a first for both me and my horse.
While I do think he looks quite handsome in the bridle, I had mixed feelings on the Horze Novara Bridle.  Instead of my general review style, I think today I'll switch back and forth between pros and cons of this bridle.
Horze Novara Bridle – Available in Black in sizes SH – XF.  Retails $43.95 at Horze
Pro – Detachable Flash Strap
I know some dressage riders don't like to ride with a flash on their bridles, and this is a good choice for those who want either option.  The flash is detachable, and the noseband itself is really nice in my opinion.  It's thick, looks good on my horse's head and has that chunky "dressagey" look (this may be the most hunter princess review of a dressage noseband ever… sorry!).
Con – Leather Quality
I admit I get pretty spoiled by my well used/oiled Red Barn bridle, but the leather quality on this leaves a bit to be desired.  All of the straps are pretty thick, and there is some kind of coated treatment to the leather.  They would probably soften  up with use, but I don't know how you'd oil it/deep clean it with the leather coating.  While fitting the bridle to Simon, I had some sticky black residue on my hands and some of the buckles were really hard to buckle up.
Pros – Web Reins
I know what you're thinking… web reins are a pro?!?  But honestly, I loved these reins – and I'm a web rein hater usually!  They were light in my hand, had an excellent drape, and not stiff at all.  With the leather quality of the bridle, I would be concerned with leather reins… but these web ones were really nice.
Ambivalent – Fit
This bridle runs big, but the good news is that it's big all over.  Simon is towards the middle/top of his Red Barn full bridle, and the Horze Novara Bridle was a bit too big for him all over with every strap on the last hole.  If you are even remotely inbetween sizes, size down.  Plus side?  I think their Extra Full would work really well for Draft Crosses and possibly draft horses.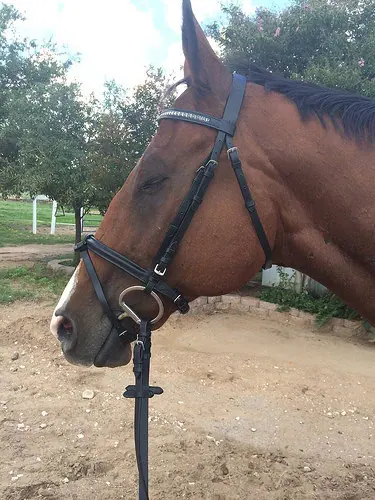 Pros – Durable Bling
The bling browband is actually a little chain of sparkly silver squares strung together on a string.  The way it's designed, I don't think you will risk losing any rhinestones that fall out of cheap "bling" browbands.  As you can see from the under saddle pictures, it sparkles in the sun just as nicely as a rhinestone browband.
Overall Impressions
If you had to ask me if I would buy this bridle, I'd have to say no.  I'd rather spend another $50 and get something with a lot nicer leather, but that's me personally.
As bridles go, for under $45 you get a flash attachment, bling browband, and reins with the Horze Novara Bridle.  I think its audience lies more with the pleasure rider who might want to go to an occasional dressage show, or match their black saddle with something pretty.  It's a pretty bridle, but the quality isn't there in my opinion for someone who wants to put a lot of miles on it.
I do say Simon looks pretty smashing in it though… what do you think?