31 Years in 13 Feet
31 Years in 13 Feet
When I bought my house, I had relatively no idea what to do with it. There are options everywhere I look. Paint color choices and furniture to be decided. How much should I upgrade the kitchen? A lot of those answers are in progress, but I always knew there was one thing I wanted to do to the house – built a wall of shelves.
I wanted to build a library nook in my long living room. Somewhere that I could put up all my books without squishing them into an Ikea Billy bookshelf, and eventually get a desk for writing and a chair to read in. The first step of that was having my bookshelves built.
Jen hooked me up with an awesome carpenter, and when he started building the shelves I quickly realized that I'm going to need to get a lot more books.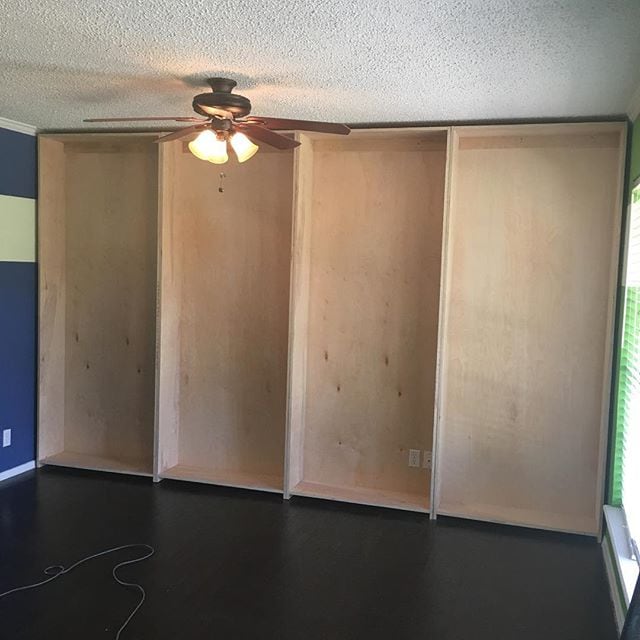 Once they were built, there was the slow process of painting them. Both of my parents helped me when they came to visit, and roughly a month later all my shelves were white and ready to go.
While unpacking, I had thrown a lot of books and misc items on the shelves and told myself I'd organize them at a later date. For reasons I've written about at length, actually settling into this home comes harder to me than I thought it would. After staring at my random belongings thrown up on my white shelves for a few weeks, I poured myself a glass of wine last night and decided to organize everything.
I started with the books. Ever since college, I've kept a lot of books around and have maniacally organized them. Much like a real library, I organize into genre and then alphabetical order. After hauling all my books around the country, I donated the bulk of my collection to the Austin Library before we moved into our little blue house. Unpacking the books last night, I missed the ones I gave away… but I've already switched back from an e-reader to hard copies, so I imagine these shelves will fill up quickly.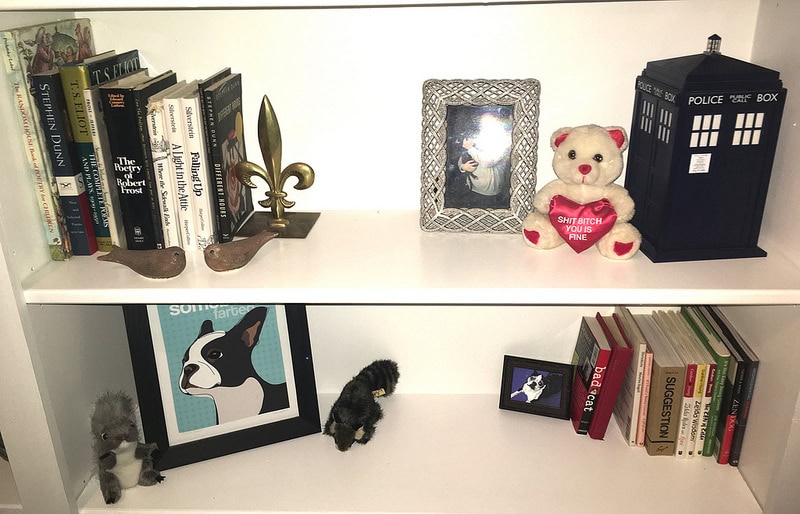 After I got my few shelves of books organized, I started filling in the other shelves. I decided to devote a shelf for each of my show horses, although Elvis got two shelves since I owned him for 7 years and we won a lot at the little open shows we did. Elvis got a hunter/jumper themed shelf, and his open show shelf complete with model horse look-a-likes.
Of course, nerd horse got his own shelf. It's probably my favorite, because he gives me all the feels.
I even did a little shelf as a homage to my model horse showing days. Most of those ribbons were actually made into my diy ribbon quilt, but I kept this big champion rosette because duh who doesn't love a big champion ribbon?
Speaking of model horses, I was pretty delighted to find my "Misty of Chincoteague" childhood model horse. Naturally, I put her and the Sea Star foal on the shelf with all my young adult fiction and Marguerite Henry collection.
Not all the shelves are horsey, although most are in some way. I grouped other items together near books that made sense. Some "happies" sent from friends are on the same shelf with my fun little picture books. They're joined by a funny Boston Terrier print and a little painting I did of BT. When I think of BT, I think of a happy "give no shits" kind of dog that always makes me smile.
All my wedding photos are grouped together with a stuffed animal Tim surprised me with from the New Orleans aquarium. It's their star otters "Buck and Emma" sewn together hugging each other. That stuffed animal has a lot of dried dog drool on it, because Eliot has been trying to sneak it away for a dog toy for the last six years. High on the shelf, it's safe from his thievery.
I have a lot of empty spaces and room to grow here. Mixed with these beloved stories I've read is the story of my life. It's told in pictures and trinkets, most of which are only significant to me. You can point to any one item on this shelf and I can tell you the story behind it. Sometimes it's the story of a beloved animal, but just as often it's about the man who was my best friend.
Sometimes looking at these shelves bring up all the loss and pain in a way that is hard to handle, but for the most part they give me a sense of pride, peace and gratefulness. Am looking forward to getting the rest of this room finished, because I can't think of a better place to write than a room built with the story of my life.