Equine Photography Tips IV – Timing Over Fences
Equine Photography Tips IV – Timing Over Fences
It's been a while since we've revisited the equine photography tips series, but a Facebook fan and friend mentioned that I kind of dropped it off… whoops!  She asked specifically about timing over jumps (amongst others I will cover soon!), so we'll cover that today.  If you want to play catch up, you can read the timing under saddle post or browse my entire equine photography archive.
Timing over fences photos is both the easiest and the stupidest hardest thing ever. Just like with under saddle photos, DSLR camera folks are going to have an advantage. If you're shooting with a point and shoot camera, my advice is practice practice practice until you know how much lag time you're dealing with. Then you can take the advice below and adjust your timing accordingly.
Small Fences
In our amateur competition world, there's a good chance a lot of us aren't jumping huge. In my opinion, this is actually the easiest type of jump to photograph. Most horses are doing an exaggerated canter stride over these lower heights, so all I do is click for my picture when both front knees are at the high point in the jump.
With around 2'0″ fences, oftentimes the horse's hind feet are still on the ground at this point. You get the "cute knees" factor an idea of what kind of bascule the horse may have over bigger fences.
Medium Fences
Closer to 2'6″ the idea is still the same but depending on the pace the horse is carrying and their scope, they may actually start to be really jumping at this point.  If so, you still want the knees at their highest point but the hind feet will have just taken off the ground.  2'6″ – 3'0″ ish is the hardest height for me to nail as I will demonstrate by two bad photos and one good one.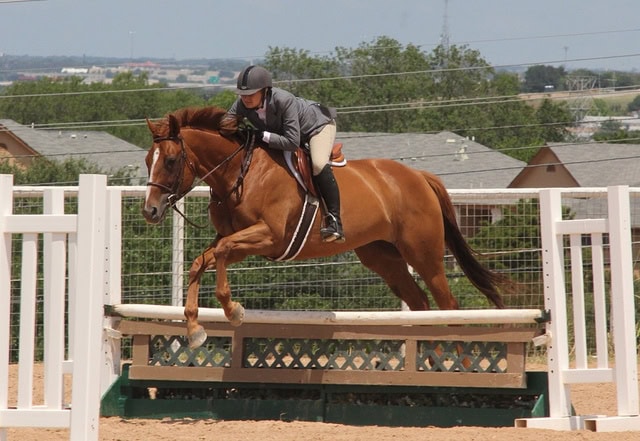 Large Hunter Fences
With hunters, it's all about style. You want to capture them doing the roundest jump possible with the tightest knees possible. The classic hunter photograph is approaching the peak of their jump but not at it quite yet. The horse should still be moving up, but their front legs should start to expand. You want to take the photo when the cannon bones are perpendicular to the ground. I have a habit of getting this shot slightly too early, so I can show you the difference.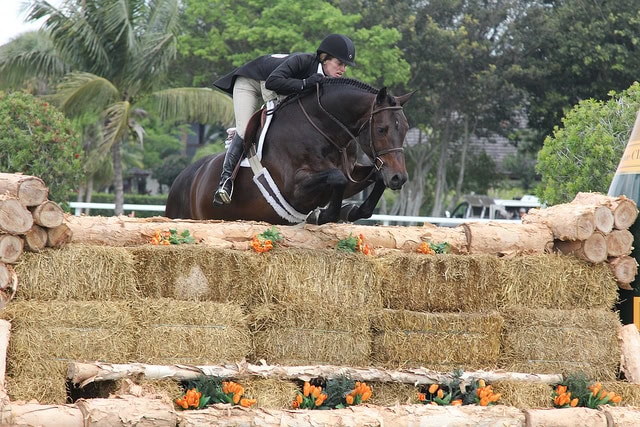 Large Jumper Fences
With jumpers, it's about tenacity and athleticism. For me, the ideal shot varies per horse. Is the jumper a classic style like McClain Ward's Antares or do they need a belly guard because their knees are so damn tight over every fence? Like hunters, I try to take the photo still on the upward momentum but usually very close to the top of it. Jumpers are faster paced and very so much in style, there isn't as much of a right or wrong way to shoot them like there is in hunters (at least in my opinion). When I shoot jumpers, I try to get shots that are WOW instead of "Oh good, they got over it."
Chasing Shots
Chasing shots are when the horse is landing on the off side of a fence. For hunter/jumpers, it's not an ideal shot but with Cross Country it seems to be more popular. My only examples are h/j shots. This one is easy to get… shoot while the horse is landing but before their feet have hit the ground 100%.  Chasing shots tend to look better when they are 3/4th view instead of my few "good" examples which are almost straight on.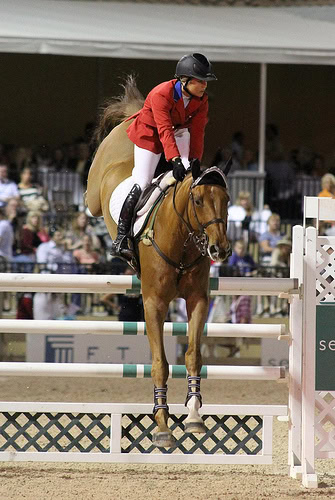 I hope this was helpful! If you have any questions about equine photography please feel free to share. I'm not an expert or a pro, but I'm always happy to share what I know!