Physical Effects of Grief
Physical Effects of Grief
Prelude: This post today does not mean I'm sitting here in my desk crying, but rather I'm sitting here at my desk at boots & breeches because I'm showing after work today. Schooling was great, but I'm super busy this week so I have a blog post I wrote a week ago for today. Will have a show report for y'all Monday!
I am not what you would call an emotional person. Between the two of us, Tim was always the softie. He would cry during movies, and I would occasionally tear up… maybe a little. The exception is Black Beauty. I always cry during Black Beauty, which he teased me about often.
Perhaps it's my ability to contain emotions that is keeping me mostly high functioning right now, but even so – I've never been so sad over anything in my life. When Tim died, I knew I would be sad (duh) and I knew I would grieve (double duh), but I also thought things would be dramatically better by now. I figured the tears would have stopped sneaking up on me, but although that is slowing down… it's not showing any signs of stopping.
I also didn't realize that there were physical effects to grief. Sadness is an emotion, but I had no idea the toll it would take on me.
The first few days, I had absolutely no appetite. Could barely stuff down a piece of bread kind of no appetite. It was like I had a stomach flu, but no flu. Also, my abs physically ached from crying. Even in my grief I remember thinking to myself, "No appetitte and an ab workout? Imma get SO SKINNY!"
Within two weeks, my appetite was back to normal…. and cue comfort eating. I cannot get enough sugar in my life – it's not physically possible. While I will get through this experience in one piece, I will probably get through it with my new friend diabetes.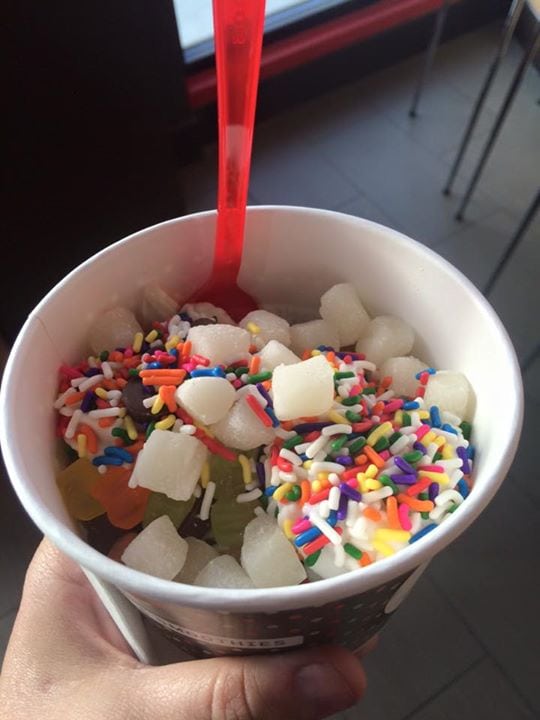 I don't know if it's the up and down diet or the huge amounts of stress I'm under (probably both), but my digestion system is not happy. I've woken up multiple times in the middle of the night sick to my stomach, and that's pretty unusual for me. It also doesn't help my new struggle of getting 8 hours of sleep a night.
Mentally, I'm a total space cadet. I've always prided myself on a keen ability to multitask and keep a many different moving parts straight in my mind. That has completely flown out the window for the time being. I will forget what I'm going to say to someone mid sentence. I'll walk into a room and have no idea what I walked in there to get. I will repeat the same story to someone multiple times (sorry friends). The other day, I tried to dry my hands off after washing them at work… without rinsing the soap off. It's bananas! I hope this starts to go away soon, because I feel like a stupid person and I don't generally enjoy stupid people.
Mostly though, I just feel worn out and haggard. After a rough night, I'll wake up not feeling rested. My eyes will ache or feel puffy, even though they look a ton better than the swollen mess they were that first week. I feel like I could sleep for two days straight, but sleep doesn't come easily.
I'm sure all of these symptoms will get better in time, but I've found them genuinely surprising. In the meantime, I'll be hanging out with my pals Prosecco and froyo. They do your body good… right?!
After thoughts: Like I said, I wrote this post a week or so ago. Do you know the other side effect from all that comfort eating? Yeah, your breeches won't zip up at the horse show. I literally hard to wear them to work today because I can only zip them up first thing in the morning. If you need me, I'll be drinking 10 gallons of water today to try and flush all this salt out! Oui.