Model Horse Showing – Performance
Model Horse Showing – Performance
Last week we talked about resins and customs and the week before we talked about OF halter, but this week we get to talk about my favorite part of model showing… performance!
What is Performance showing?
What is performance in a nutshell?  Well, remember how you played with your Breyer horses as a kid and had them jump over little jumps or run around little barrels and squealed with delight with the little saddles they wore?
It's pretty much that, but way more hard core.
A good performance entry is a snapshot of a real horse event, scaled down in miniature.  The horse, props, tack should accurately portray the action of the event.  Instead of sitting on our hands and knees having our plastic ponies "jump" the fences, we freeze frame it and obsess over every tiny detail.
And I do mean every tiny detail.
How does the show work?
Performance usually falls into two categories, OF and CM/AR, meaning that factory finish horses (more generic poses) normally don't have to compete against CM/AR horses (sometimes very specific poses for a specific event).  Under those two broad umbrellas, there are different divisions.  The complexity of the divisions will vary by show, but the usual suspects are:
Harness (the only performance division I didn't show in)
Other (Showmanship, Scene, Saddleseat, Trail, Etc)
Costume (Native American, Arabian, Parade, Etc)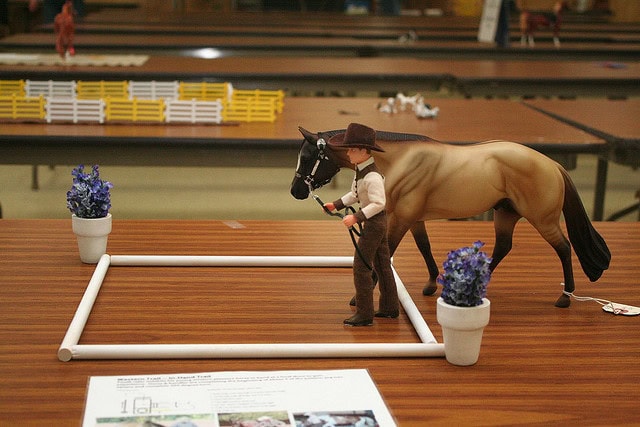 Stockhorse or Action Western (Cattle Classes, Reining, Speed Events)
Western (Western Pleasure, Western Trail, Non-Speed Games, Etc)
Sporthorse or Action English (Jumper, Hunter, Dressage, Eventing)
English (English Pleasure, English Trail, Non-Speed Games, Etc)
Depending on the size of the show, each division will have 3-4 classes or more.  Entries are awarded ribbons in each class, and then a section Champion and Reserve of each class.  Usually there is also an Overall performance champion and reserve chosen.
Basically, unlike CM and AR your performance horse can win a lot of ribbons (especially if you are fast at switching tack).  This is one of the reasons why I loved performance – the challenge of taking one pose and fitting it into as many classes as possible was super fun for me.  Also, I love ribbons.
How is it Judged?
Since performance is a frozen snapshot of a real event, the first criteria of judging is accuracy.
Is the horse doing what it's supposed to be doing?
Is the striding right for jumping?
Is the position right for cow classes?
Is the tack all legal for the event described?
Is the doll riding properly?
Are the props to the right scale and accurate for the class?
The biggest way to take yourself out of the competition is to make a big glaring error in your documentation or set-up for a particular class.  Example?  One time I had my horse going the wrong way in a dressage test… my diagram and documentation said he needed to be going left and I had a blonde moment and putting him going right.  Out of the ribbons for me.
After that, it's really how cool your setup is.  Is the tack realistic?  Props beautiful?  Are there lots of little details?  For performance, it's all about the accurate details.
Hands down this is still one of my favorite things in the world to do.  I got really cracked out on performance.  My favorite was taking a cheap OF breyer and seeing how many things it could do.  Another great thing about showing this many different classes was learning about different divisions that you may never show in.
Do you know the legal tack for working cow horse?  I do, and I'm a hunter princess!  Aside from amazing artistic achievements in CM and AR models, I also think performance has the biggest "wow factor".  People are really amazed at how perfect and tiny these setups can be!
I only pictured mine today because I'm fond of them and they bring back a sense of nostalgia for me, but if you find these setups interesting I highly encourage you to check out Braymere Custom Saddlery's collection of live show pictures because she has some photos of some of the greatest performance setups in the world!
Also, don't forget about the giveaway of a little pack of Novice Live Show Quality or Photo Show Quality prizes. We're getting closer to our winner drawing date… and I've found some more fun goodies to add including a beautiful stock horse medallion painted by Laura Skillern and another adorable SM custom!  Use the widget below to enter for your chance to win these fabulous prizes (and maybe some other surprises)!