Grateful & Stressing
Grateful & Stressing
We are four days past "Simon tries to die 2014" and things are pretty much back to normal.  He ate small amounts of grain and hay over the weekend, and the goal today is to get him back to his normal eating schedule.  Since we dumped 30 liters of fluids in him, all his vitals stabilized and he kept looking better and better.
I'm very thankful my horse is alive.  I don't claim to have "seen everything" with horses, but I've never seen a horse get so sick so quickly with pretty much no answers as to why.  Doesn't really matter since he's healthy now, hopefully he will stay that way.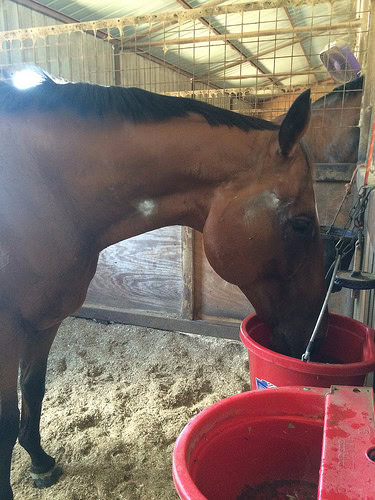 I love my horse, and I love him whether I can ride him or not.  Things could have been much worse last week.  That being said, I can't shake the feeling that the universe is kicking me while I'm down.  The day before Simon got sick, I made an appointment with the sports medicine vet near College Station.  Now I'm calling today at lunch to cancel that appointment.
Though  I think the vets did an excellent job and charged me fairly, turns out there are a lot of things to do to your horse when he's trying to die and nobody knows why.  My vet bill was not small.  Plus, I'm not sure throwing him on a hot trailer for a 4 hour round trip so soon after this is a good thing.  So the answers I had hoped I was going to get are being postponed.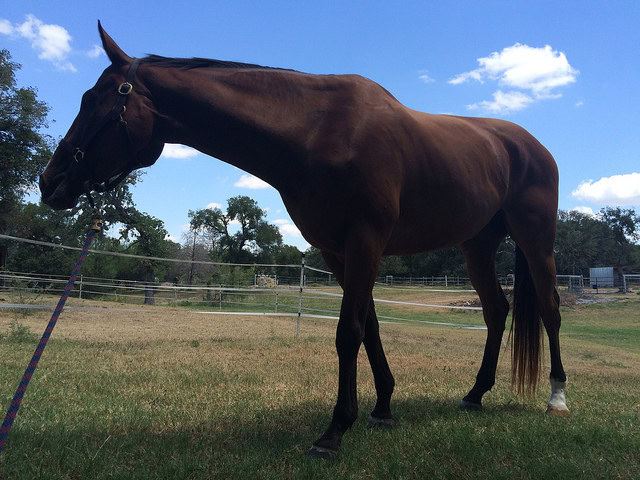 At first I thought I would just go with what my local vet said, but my trainer thinks taking him to the sports medicine vet is the best thing.  Deep down, I know she's right… but running the numbers makes me sick to my stomach.  I was so close to being out of debt, and all of this has set me back months and months.
For now, the plan is to wait until after Labor day when I come back from vacation to make the call on whether he goes or not.  Maybe three weeks off, an expensive mystery sickness, and re-balancing all his feet will magically cure him.  I'm not optimistic.  Most likely I'll make a new appointment with the sports vet in early September.
I know things could be worse, I really do… but I am just so frustrated.  When I think about it all, I start to cry unless I quickly distract myself with puppies/chocolate/awful True Blood finale.  Hopefully I'll have some amazing moments with Simon in the future, and I'll look back and realize it was all worth it.  Right now, I'm having a hard time seeing that.