Forward (and Straight)
Forward (and Straight)
My ego with riding continues to be bruised, but I'm not a quitter.
I'm officially doing the schooling show next weekend instead of the originally planned two day show this weekend. Bonus points for saving a lot of money? That's how I'm pitching it to myself.
I also got bumped from the jumper lesson (hopefully temporarily) this weekend, since the more experienced girls needed to prep over bigger fences for the show this weekend. I mean even if I've been riding perfectly I have no business jumping 3'+ right now, and it was a totally rational reason to move me to more of a hunter type 2'3″ – 2'6″ lesson but I'll be honest and say it made me a little mad.
Not mad at my trainer or my horse or any of the lesson students, but mad at myself for slipping back like this. So I channeled that mad into FORWARD!
It's taking time, but I'm starting to figure out the pace better at the beginning of my course instead of in the middle of it. If Simon felt at all behind my leg or sucked back, I squeeze for FORWARD. I even volunteered to go first in the rotation, because we were FORWARD confident riders and FORWARD riders aren't afraid to go first.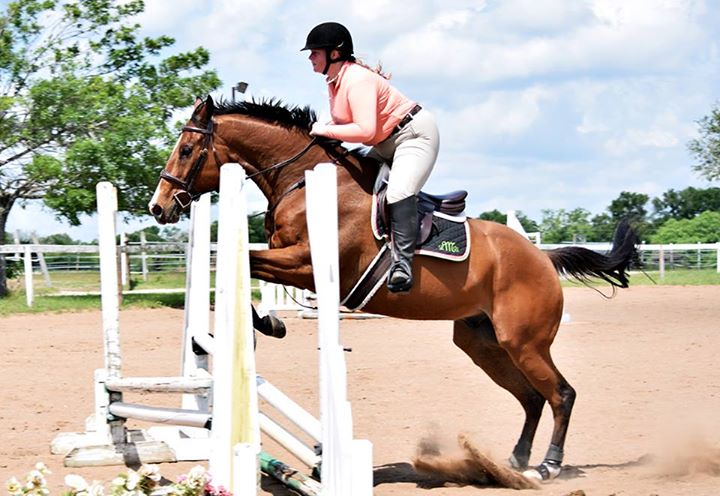 My first course felt really good to me… I didn't add in a single line, but my trainer said it was super crooked. That my horse was jumping far left over every fence.
For our second course, some oxers were added. Do you know what I say to oxers now? I say FORWARD and STRAIGHT because that's how we jump oxers. Like a bad ass.
A fun side effect of jumping STRAIGHT is that your horse is more likely to land on the proper leads because he's not going to drop his shoulder and dive through a corner. Who knew?
Throughout my lesson, we were FORWARD and STRAIGHT. I think Simon was a little "who are you and what have you done with my mother?" but he never questioned anything I asked him for. I asked my trainer to raise the jumps. We got a clean lead change, and for the first time in my riding career pulled a rail coming out of a line because we were too close for a distance.
Okay, maybe a little too forward.
So yes, the ego is bruised but I'm riding better than I have in months. We all know horses are humbling, so consider me humbled. You can bet your ass I'm going to do my damnedest to be the best "Beginner Jumper" at the show and go FORWARD and STRAIGHT through that entire 2'6″ – 2'9″ course.