Eliot's Contractual Obligations
Eliot's Contractual Obligations
In the past six months, Eliot has turned into a much older dog than he was a year ago.
Earlier this year, he lost his hearing seemingly overnight. I feel like one week he was coming when I whistled, and the next I was trying to teach him hand signals for "come." He's not the first deaf dog I've had. BT couldn't hear or see for the last year of her life, maybe more. Though Eliot losing his hearing didn't bother me outright, it was a fundamental change for him. He started barking a lot more and generally acting more on edge, because he was having trouble adjusting to losing that sense and there isn't much I can do to help him. I still talk to him like I always do, but even the smartest dogs surely can't read lips.
People are usually surprised when they find out how old Eliot is. He'll be twelve in October, which is the early end of life expectancy for a springer. Appearance wise, you'd be hard pressed if you didn't know him well. His white blaze covers up a lot of the gray hairs that dogs usually get around their muzzle, although now if you look closely you can see white strands sprout up over his eyes and past his blaze. His body is also more swayed and floppy, with a small collection of benign fat tumors and little muscle tone compared to his youth.
When I got Eliot as a puppy, I stroked his soft puppy ears and joked with him that by being my dog, he was entering an ironclad contract of love and companionship. I told him that he was locked in for 14 years, and anything beyond that would handsomely be rewarded as a bonus. Logically, I know my next statement is ridiculous… but I have always kind of expected him to live those 14 years — no questions asked. Last week was the first time since I've gotten him that I was scared Eliot might not be able to hold up his end of the bargain.
Two weeks ago, I had a big moving sale to try and move stuff that I knew wasn't going to make it with me to California. Eliot has always been a nervous guy with a completely unfounded fear of being left alone in an abandoned house, and seeing furniture and boxes pour out of his home really worried him. On top of that, one of my roommates moved out the following week and his little spaniel brain completely went into despair.
He stopped eating. I added cheese and deli meat to his food, but he snubbed his nose at it. I sat with him in the living room before work in the mornings, hand feeding him kibble and delights but couldn't get him to finish a meal. He moped around like it was the end of days, and I started to worry. Eliot has always been a picky eater, and is not necessarily food driven… but this was extreme. On top of the lack of appetite, he'd been slowing drinking increasing amounts of water over the past several months. My brain went down the dark black hole that is the internet, and I quickly became extremely concerned about his kidneys.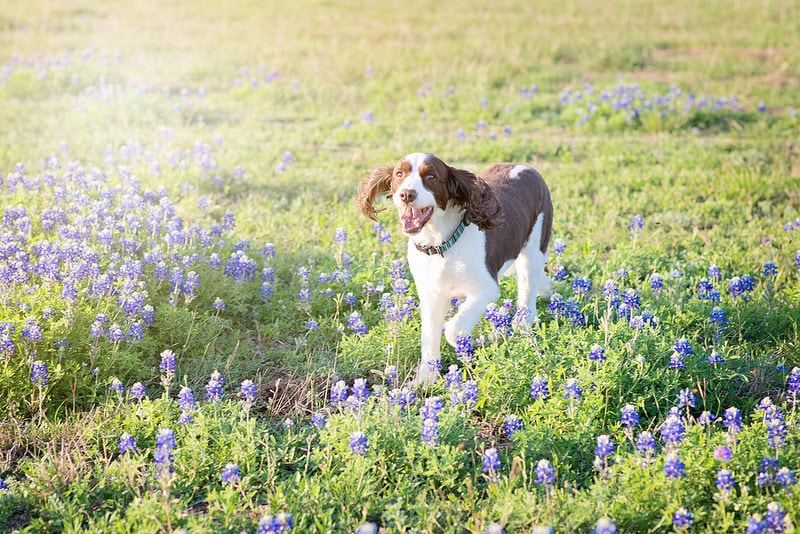 I took him into my vet, who is a Texan small animal god in my eyes. The perfect combination of straight forward but non-alarmist, and even as I spewed all of Eliot's symptoms with my voice on the edge of panic — I knew my vet would take the right path. We did bloodwork, and he told me to give Eliot 20mg of omeprazole daily to help with what he thought was stomach acid causing him some digestive troubles.
When the results came in, I was surprised but ecstatic to hear that all of Eliot's levels are normal. Three days in, the antacid was helping with his tummy and mixing a little bit of wet food into his kibble returned a stable appetite. We're still trying to figure out why he's throwing up bile 6-10 hours after eating, but his excellent bloodwork relieves any fears of something major going on. It seems his contract isn't up with me quite yet after all.
Three years ago in the height of Eliot's aggression with BT, I almost wished a health issue would make a euthanasia decision easy for me. Living with a mentally troubled, aggressive dog is not easy — for you or the animals. But mentally, Eliot is doing great these days. He's not perfect and he's not allowed around strange dogs or children, but 90% of the time he is excellent with Pascale and my roommate's dog. Time has healed the hurt and the fear he put in my household after attacking BT.
Right now, I need this old spaniel around. He's an entirely different dog than Pascale. Instead of following me around like a shadow and sleeping by my side every night, he's more of a soft presence in the room. The old dog loves me fiercely. My roommates tell me the lack of appetite that worried me so much last week is the same thing he does every time I leave on vacation.
I look forward to him licking me on the cheek when I get home from work everyday, an act he only saves for the most important people when they first arrive back home. I don't feel right if I leave the house in the morning without stroking the tops of his long, soft ears before I walk out the door.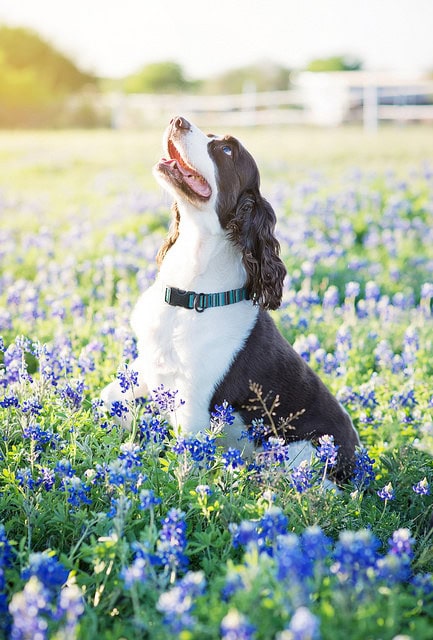 This little health scare has made me realize that Eliot is more than just a dog to me. He's the last member of my original family unit: Me, Tim, Eliot and BT. Eliot was at my engagement, my wedding — at every important milestone of my adult life. The risk of losing him feels like losing something much greater.
At twelve, things are only going to get harder from here. I know that, and I will enjoy the days I have with him and do my best to make good decisions for his health throughout the end of his contract. I just hope there's a lot more time. I'm not ready, not yet.