Product Review – Horze Reflective Boots
Product Review – Horze Reflective Boots
Once upon a time I lived and rode my horse in places where people would hunt often.  It always wigged me out, and I would opt to not ride in certain areas during hunting season because I didn't have any bright orange gear to identify myself as "not a deer."  I know I'm not the only one who has faced this problem before!
Enter the good people from Horze.  They have an entire line of reflective horse products to keep you and your horse safe when riding at night or during hunting season.  Even though we don't have a huge need for orange products these days, we do ride at night all the time during winter so I was excited to see how the Horze Reflective Boots performed.
Now from the product photo, they look a lot like very expressive splint boots.  Don't be fooled though – these boots aren't really going to give your horse much leg protection.  They are light weight and flimsy, which is fine for their intended purpose- reflection.  I wouldn't buy these thinking "Oh these split boots will be great with my orange cross country colors!" though.
Sizing wise, they are dead on.  I ordered Simon the full as he's at 16.2hh and the full suggested between 15.2hh – 16.2hh.  They fit him quite well.  Maybe a tiny bit on the large size, but I don't think a size down would have worked for us.  I'd follow the size chart's recommendations.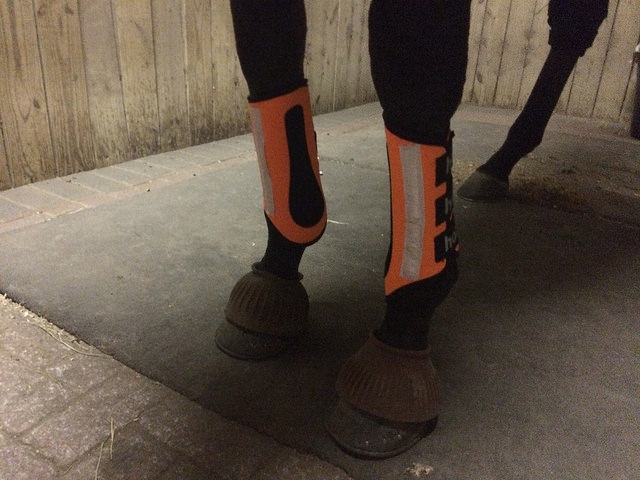 One of my typical complaints about Horze products is the somewhat aggressive branding that many have.  These boots are no exception, but in this case the branding doesn't bother me.  Why?  Because it's not just a 'Horze' logo, but a reflective Horze logo.  Each strap says 'Horze' in silver reflective paint.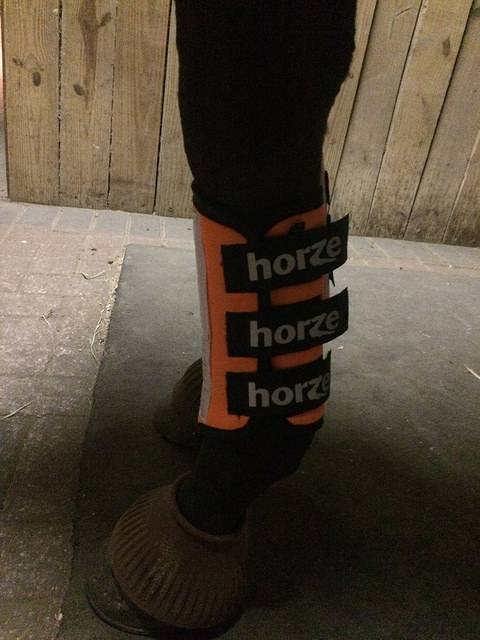 Sure, it's a little bit over the top but it's also functional – so I can live with it.
Now let's talk about how much reflection these reflective boots actually do!  First, shown in my arena with the lights on (but not super bright) and no flash on my camera.  You can see how well the orange stands out.
Now same setting, but with camera flash.
Do you see how much the 'Horze' parts on the side reflect the light?  If I ever even remotely had a chance of trail riding near traffic at dusk or dark, I would definitely want a pair of these on my horse!  Think of how a car's headlights would react to the material and colors.
After our ride, I took more pictures in a dark area outside our barn with almost no light.
Compared to the rest of his tack and his white sock, the orange does a pretty good job of standing out in the dark… but with the light from my flash?  Even better.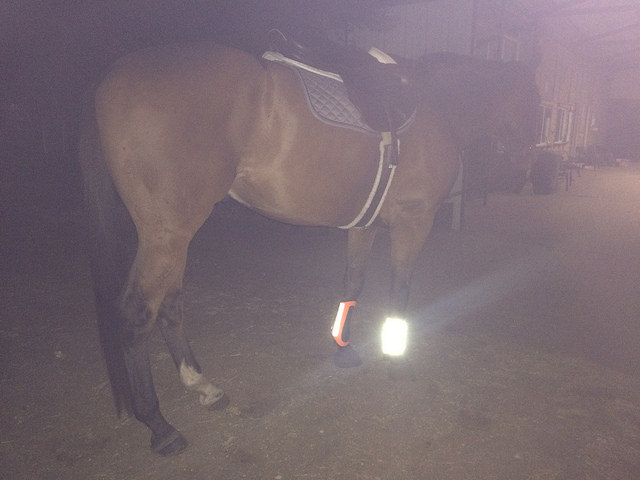 It's like his front legs are magical beacons of light!
I also liked how these boots didn't slip much during our ride, and also didn't make Simon's legs any hotter than they would be normally.
At $29.95, it's hard to say how much of a value I think the Horze Reflective boots are.  I think that with this kind of niche product, if you have a need for this kind of boot – these are a good choice.  I did notice a small place in the silver reflective material on the inside of the boot that started to tear a tiny bit after our ride, so if your horse interferes a lot they may not last forever.  It's probably something I would pick up during one of Horze's awesome sales that they often have!
For me, I think they fit the night riding purpose super well.  However, I don't ever trail ride and definitely not at night – so I'm giving these boots away!  I think it's a nice product and would like someone who has a need for this sort of thing to enjoy them!
To enter, just leave a blog comment (and tell me you did in the widget above) letting me know why you'd like to win these boots!  Giveaway ends Tuesday, December 2nd at 12:00am US Central Time.
A note about giveaways on She Moved to Texas:  This giveaway is a sweepstakes, and the winner is based on pure luck!  To comply legally with sweepstakes rules and regulations, giveaways on She Moved to Texas are limited to US residents 18 years of age and older.  You may always get an older guardian or US based friend to enter for you to legally receive any potential prizes.  Though I cannot give "entries" for liking our kind sponsors on social media, please take a moment to visit their pages since we want to support their generosity!
Thanks to Horze again for supplying the product for today's review and giveaway.