Product Review & Giveaway – Noble Outfitter's Quilted Jacket & Belt
Product Review & Giveaway – Noble Outfitter's Quilted Jacket & Belt
I've always been a big fan of Noble Outfitters. It all started with some really great socks, and I've watched them expand their product lineup over the years. The representatives have always been super nice to me and pleasant to work with, and I believe they make quality product for riders. Because of all of this, I was pretty pumped when they asked me to review some products from their new fall lineup. I picked the Warmup Quilted Jacket and the Classic Quilted Belt, and love them both!
When you first glance at the product photos, this looks like an ordinary jacket. I was expecting the quilting to be on the thinner side, but was pleasantly surprised when I took the jacket out of the box. This thing is warm! The quilting is thick and comfortable without being bulky.
In addition to the nice quilting and warmth, the jacket has a lot of details that show off its quality construction. The inside of the jacket is lined with a silky fabric that is designed with subtle bits. It's a cute equestrian detail without having a giant appaloosa galloping through a rainbow embroidered on the back.
The quilted sleeves are capped at normal sleeve length, around my wrist, but they also have a slinky material that will extend further down your hand. You can even tuck your thumb through the fabric (this always annoys me so I opted not to) for a little extra warmth.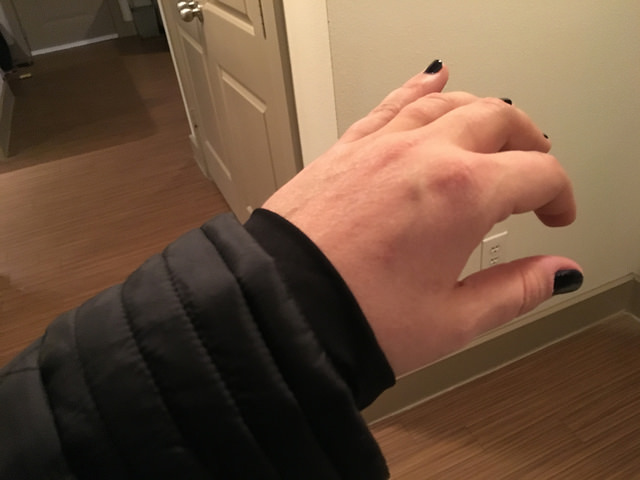 Finally, the coat has back zippers that you can zip up. They're basically like vents on a show coat. You can choose to keep your bum warm and tucked in…
Or open up the zippers for extra freedom of movement. I left them zipped, but it's nice to have the option.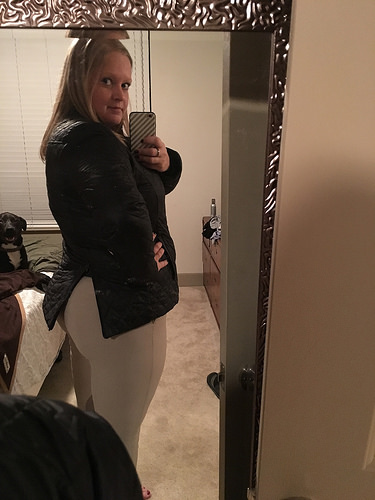 Sizing wise, I was smack dab between their size options. I choose to size down, and although the jacket is snug I love the fit. When I ride I prefer a more fitted jacket than something that hangs and bunches. Noble Outfitters goes up to XXL on this item, so fluffier riders can get a quality jacket! I'm not someone who loves to pay full price for any clothing item, but I really do think this jacket is worth every bit of the $129.99 that it retails for.
Look, we've all seen the original Tailored Sportsman quilted 2″ belts and oogled over their prettiness. Although I've oogled, I've never splurged because I don't live in a world where I feel happy paying over $100 for a belt. Noble Outfitters has created a similar classic design, at a friendlier price point of $67.99.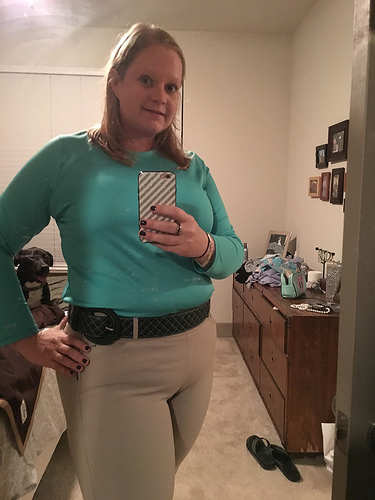 These belts come in classic colors, black and brown, but are accented with fun piping. I got the black with teal thread, and it looks fabulous with a lot of my bright colored tops. Sizing is true to fit, and the leather feels nice. The belt buckle is on the larger side, but it doesn't bother me when I ride… which some larger buckles will when you have a muffin cake top!
I like this belt. I think it's cute. It looks great with TS breeches, and if you're looking for something comparable to the TS belt without the TS price… this is a great option.
Product Giveaway!
I mentioned how awesome the folks are at Noble Outfitters, and they're proving that to y'all by sponsoring a giveaway. You can win the Warmup Quilted Jacket or the Classic Quilted Belt in your size. Thank you Noble Outfitters!
You have three ways to enter in the widget below, but the option that's required is telling me your favorite Noble Outfitters product. If you haven't checked out all they have to offer, stroll on over to their site! It's worth a look… Christmas is coming. 😉