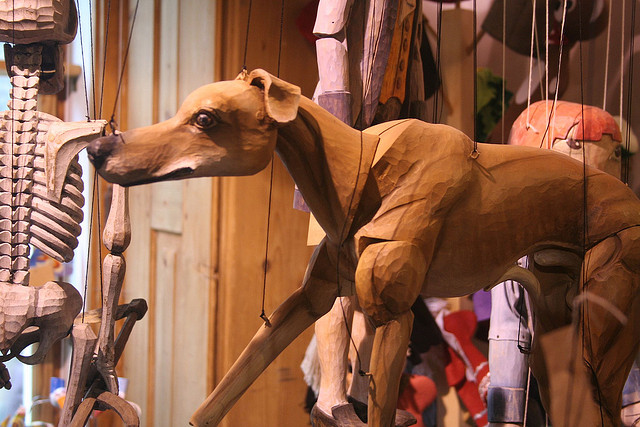 Happy Things Hop – Nooks & Crannies
Happy Things Hop – Nooks & Crannies
Joining the blog hop world again!  I know there are a lot of 'hops' around lately, and this one is going to run a bit differently.  First, it is not 100% necessarily equestrian themed (totally up to interpretation).   Second, I'm not committing to weekly or any strict timelines.  I'll leave the participation open for a long time, so if you feel like hopping… hop!  If you don't… don't 😉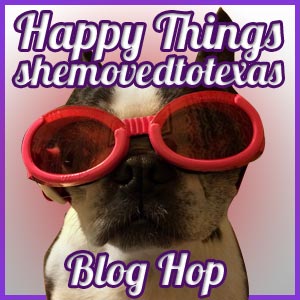 Let's share things that make us happy!  Today, let's talk about the little nooks & crannies in your house that make you smile.
I've been at my current house for over three years, which is the longest I've been settled in one place since high school.  Even through all that moving, there are always some consistents where I live that make me smile.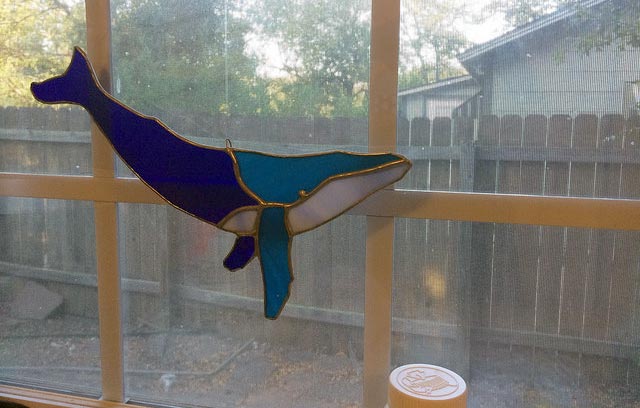 This stained glass whale is something my aunt & uncle gave me when I was a kid.  Like most kids, I was kind of obsessed with whales… I used to hold my breath in the pool to train for my future career at Sea World (true story).  Though I'm not a marine biologist now, I like this little guy.  He always hangs in a window and reminds me of the North Carolina coast… even though it has no humpback whales at all.  Now he lives above my plethora of dog medicines, so I see him every day when I feed the livestock.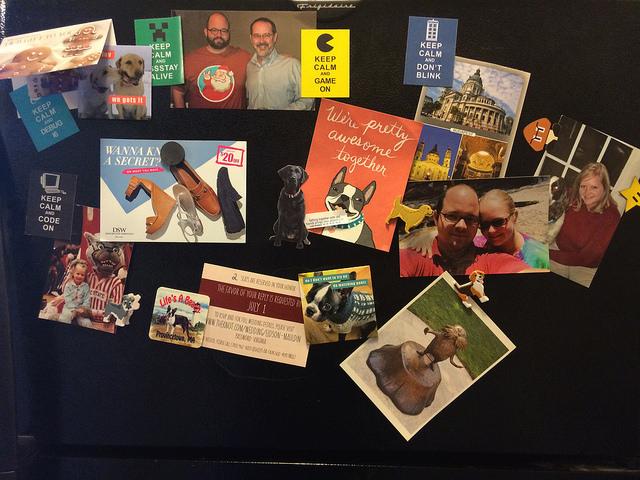 My fridge is a mix of happy and coupons… mostly happy because I love to put a coupon here and then forget about it until it expires.  Here you can see some photos of us and our family, including itty bitty Lauren at a NCSU game when I was 4 or 5 which I keep on the fridge because it reminds me of my Dad.  I'm also a magnet junkie, so we have a bunch of nerdy magnets as well as all things Boston Terrier.  The Lorax is actually a postcard from the Dr. Seuss memorial garden, which is the only awesome thing about Springfield, MA.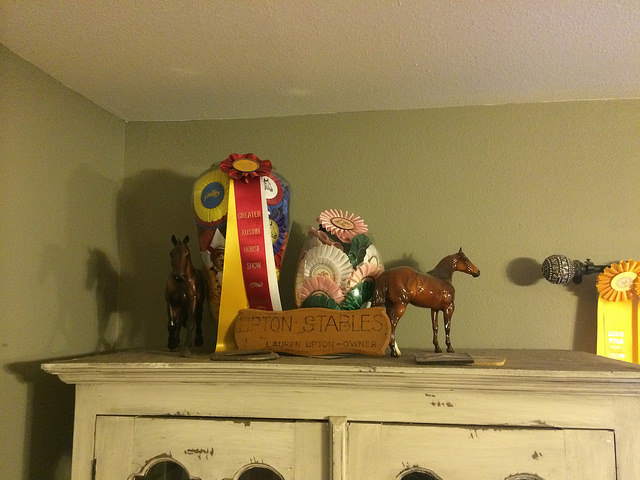 Everywhere I've lived, I've kept the ribbons somewhere in sight.  This used to be the traditional ribbon string on the wall, but now I've upgraded to shoving them in a jar.  Also keep a few models in this corner, and the 'Upton Stables' is actually a hand made sign that went on the model horse barn my late grandfather made me when I was a kid.  The barn is in storage, but I've kept the sign with me.
Once upon a time, I used to be an artist.  This is my favorite piece ever.  It's a scratchboard, so all of the white hairs are actually ticks scratched off the paper.  Once upon a time it won a bunch of awards and stuff, but now it hangs in our house and reminds me that maybe I should try to do art again one day?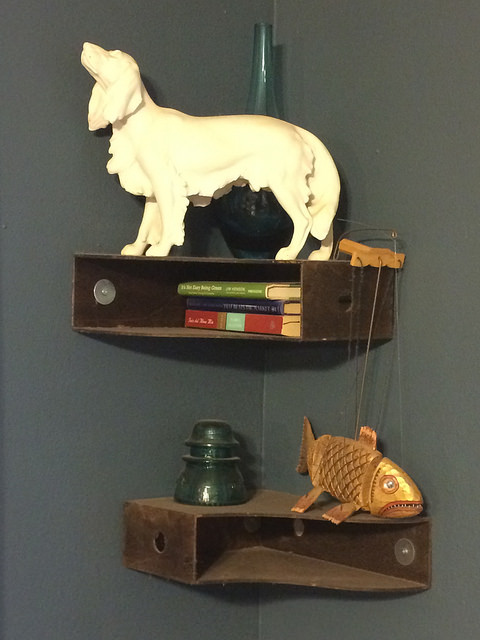 Finally, we have a rather newish collection of happy with an old favorite.  I'm referring to the barracuda puppet on the right.  I got him on my second trip to Prague, which is kind of a story in itself.  The short version is, there is this amazing puppet show in Prague, CZ.  I went there on my first trip, and was AMAZED but thought "oh these are all too expensive for me" and didn't buy anything.  I got back and regretted that decision, so when I was back in the country I dragged my husband to the puppet shop and squealed in delight.
The below pictures aren't super related to the post, but they make me happy so in the general theme I'll share.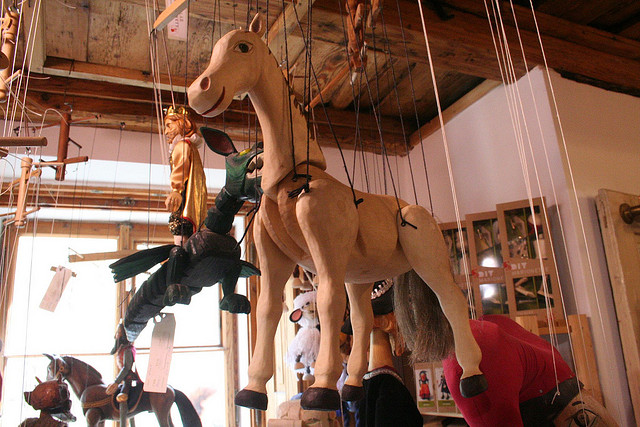 Basically, the shop is a treasure trove of wonders.  Almost every puppet is hand made by Czech artisans.  The sales person told me the eyes of my fish are from glass that's a hundred years old… which maybe she lied to make the sale, but I don't care.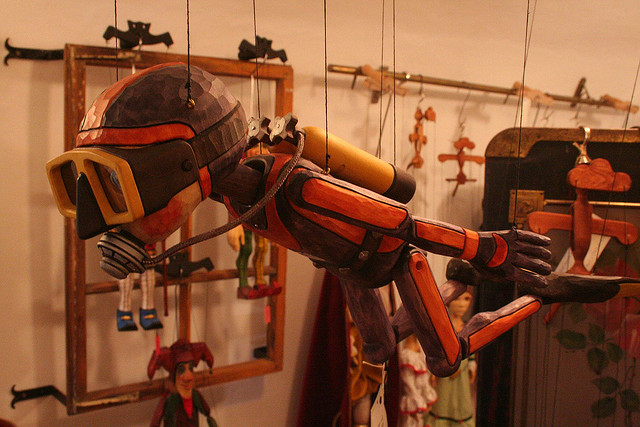 The puppets make me happy and I love my puppet.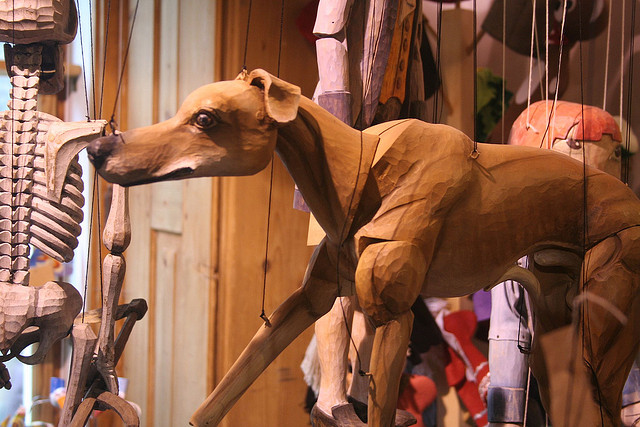 So those are my happy little nooks & crannies!  I'd love to hear about yours as well.  If you want to hop, grab the code here and join in.