Happy Things Hop – Favorite Noms
Happy Things Hop – Favorite Noms
There have been a ton of really awesome blog hops lately, so I've taken my dear time posting the second of the "Happy Things" hop.  There's also been a ton of things to post about over here lately, and therefore I haven't participated in as many hops as I usually do.  We'll see where the content train takes me… but today's topic you can take either horsey or non-horsey.  I'm doing both!
What is your absolute favorite comfort meal?  If you want to take a horse spin on things, what's the best horse show food you've ever had?
I kind of love food. It makes me ridiculously happy when it's just the right dish.  The number one be all end all comfort food for me, and what I pretty much always want to eat (especially on my birthday) is southern shrimp & grits.  My mom makes them fabulously, I make them okay, and they don't seem to exist anywhere in Austin… which makes them more desirable.
There are three keys to perfect shrimp and grits:
Creamy cheddar grits
Fresh local shrimp
The right sauce (let's be honest … usually it includes bacon)
I could literally eat this every day, but then I wouldn't wonder if I was too heavy for my horse because I would know 100% for sure 😉
As far as horse show food goes, we are pretty lucky that the main Austin show grounds has great food.  You can go healthy or not, but they have lots of options.
They don't beat crepes at the Winter Equestrian Festival though.  At what I consider the world's fanciest horse show it only makes sense to have fancy smancy crepes.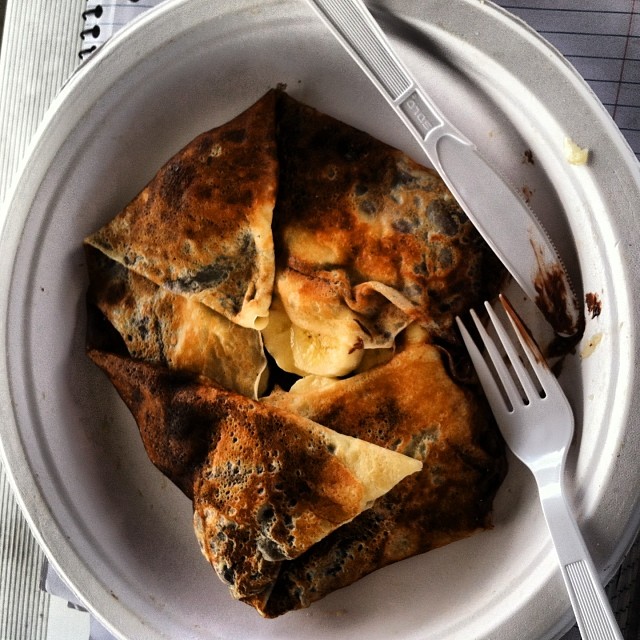 You can do savory or sweet (I like caramelized onions, broccoli and bacon) and they're kind of amazing.  Okay, they're really amazing.  If you go to WEF, you must eat crepes.  It's just that simple.
I doubt I'm the only one who loves food, so if you want to share your favorite noms then play along! Get the blog hop code to display widget on your blog.