Happy Meal Magic – Another lost toy of the 90′s
Tonight I'm going to blog about fake fast food.  As one might imagine, we arrived at this topic through a somewhat jagged line.
Tim has "Monster Mash" stuck in his head (I've had "The Final Countdown" in my head for the past 8 hours, which is cruel and unusual torture… but I digress), and makes me pull up youtube for the monster mash game which he used to play as a kid – probably because you got to smack things with a stick… and who doesn't love that? Then I mentioned that my family used to play Guess Who, because we weren't allowed to hit things with sticks during family game night. While watching the Guess Who commercial, I saw another commercial on the youtube suggested videos that I remembered as a kid – this one about cutting fake hair made out of play-doh. Then another suggested video, about making little meals out of play-doh and then it struck a memory about hamburgers made out of 'Nilla wafers.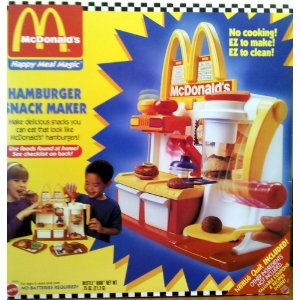 'Nilla wafer hamburgers? What the crap is that?  Some google searching, and I found out that the toy was actually called "McDonald's Happy Meal Magic" and was a whole series about making fake fast food for children – dear heavens I can't imagine why they aren't still in production.  Here's an excerpt from the press release:
LOS ANGELES, Jan. 26 /PRNewswire/ — Mattel Inc. (NYSE: MAT) will design, manufacture and market a line of McDonald's-branded toys through an exclusive licensing agreement for the activity toy category. The toy line, McDonald's "Happy Meal Magic," allows both boys and girls to make miniature versions of McDonald's meals using common household food ingredients, such as peanut butter, cereal and fruit juice. "This marriage brings together two of the most recognizable names to children," said Jill Barad, president and chief operating officer, Mattel Inc. "McDonald's and Mattel regularly join forces on Happy Meal promotions, and the last two efforts were among McDonald's …
Now, if games involving hitting things with sticks weren't allowed in my house growing up you can bet that I was going to make "chicken mcnuggets" with white bread, corn flakes and cinnamon.  After reading some of the descriptions of these toys, I've discovered that cinnamon is the key ingredient that holds all fake McDonals together.  Real McDonalds is of course, held together by traces of crack and MSG.
These toys are mind boggling though.  You can make french fries out of white bread (mmmm, just like the real thing), make pie out of white bread, and who could forget the classic make chicken out of white bread.
All this being said, I would probably rather eat white bread than McDonalds chicken nuggets.
I'm tempted to buy a few of these sets to save for any future offspring of my own.  I guess they're pretty rare these days, probably because parents had to throw them out in disgust after kids left molding "apple pies" tossed aside since they were inedible in just about every way.  Having a toy selection like this would really teach my child to reach for the stars, look for the best in life, and if nothing else – a little bit about brand awareness.  Order up.