Equestrian Gift Showcase – Two Socks Designs
Equestrian Gift Showcase – Two Socks Designs
This holiday (and as of right now, pre-holiday!) season I've rounded up something that I'm really excited about.  Christmas shopping is one of my all time favorite things, and to show that spirit with y'all I present the Equestrian Gift Showcase!  Throughout the rest of November and December, I will be featuring equestrian small businesses that I love and admire.
Each feature will pick out some great gifts they offer for the horse lover on your list this holiday season.  Also, all participating retailers have been super generous to offer either a coupon code, giveaway item or sometimes both!  Shopping, giving, receiving… it's all going to be a blast and I am excited to bring y'all on the journey with me!
Two Socks Designs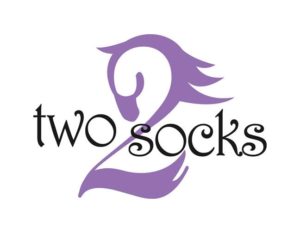 Our first featured company is Two Socks Designs run by a fellow Texan hunter/jumper (who's horse is much cuter than mine… don't tell Simon).  Two Socks Designs specializes in custom embroidery and equestrian items, and let me tell you – owner Sydney is like a Wizard with embroidery!  Check out some of these amazing designs she has done:
Dream up a design for a saddle pad or other item, and Two Socks Designs can make it happen!
Plus, if you're not feeling oh so creative she already has lots of fun designs to choose from.
Outside of embroidery, Two Socks Designs offers fun polos for the pony kid (or pony kid at heart) and even decal stickers in fun, trendy patterns.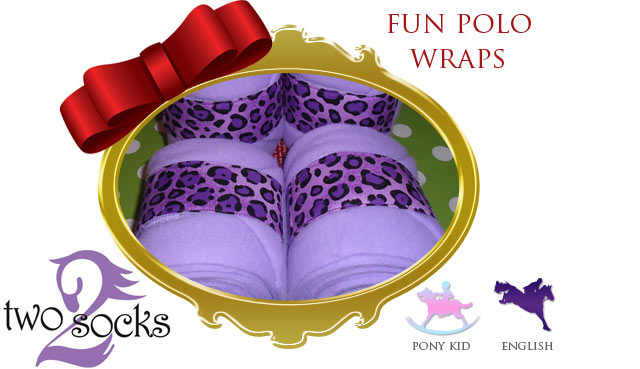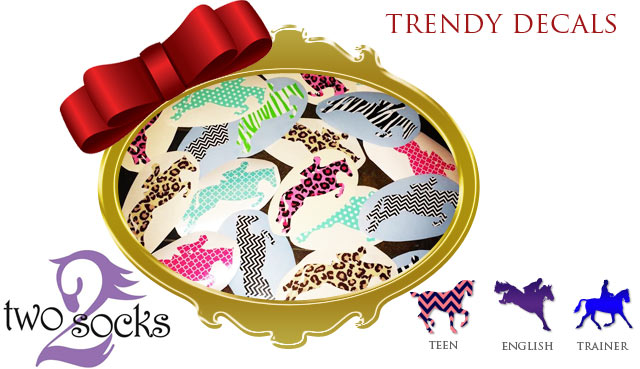 One of my favorite gifts from Two Socks Designs are their custom hats. You can choose your fabric, design and embroidery color for a unique look.  The hat I ordered from them earlier this summer is a bright blue base, lime green chevron, and pink hunter/jumper horse.  Basically, it's precious.
Since I love my hat so much, I've asked Two Socks Designs to help give one of my readers their own custom hat!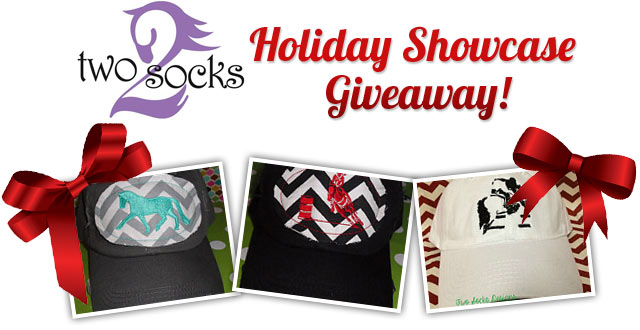 To enter this giveaway, simply peruse some of the amazing gifts on the Two Socks Designs etsy page and say you did so in the Raffle Copter widget above!  Please also visit Two Socks Designs on Facebook and give them a good 'ol "Like" – although this is not required for entering.
The winner will be randomly drawn on Wednesday, November 26th.  Entries close 12:00am US Central time on that same Wednesday.
a Rafflecopter giveaway

A note about giveaways on She Moved to Texas:  This giveaway is a sweepstakes, and the winner is based on pure luck!  To comply legally with sweepstakes rules and regulations, giveaways on She Moved to Texas are limited to US residents 18 years of age and older.  You may always get an older guardian or US based friend to enter for you to legally receive any potential prizes.  Though I cannot give "entries" for liking our kind sponsors on social media, please take a moment to visit their pages since we want to support their generosity!
I know it's a bit early to be thinking about holiday shopping, but with custom items like these it's never too early to get your order in!  Please check out Two Socks Designs on Etsy and Facebook .  Until the next holiday showcase… happy shopping!