Equestrian Gift Showcase – Tara Kiwi
Equestrian Gift Showcase – Tara Kiwi
There was a great showcase earlier this week with fine, chic equestrian apparel and today I've got another one!  Tara Kiwi, contemporary equestrian apparel, was new to me when Fly On Over suggested that I check them out for the showcase.  Browsing the site, I liked what I saw.  Lots of fun equestrian designs in a variety of colors and styles!

Right off the bat, I was drawn to the very fashionable cut and shape with a cute equestrian flair.
Business owner Tara had nothing but praise for the styles and fabric these designs are showcased on.  These organic cotton shirts are made in the USA, and are super soft.  They wash really well, and don't shrink with repeated washings.  Special details like scalloped trim along with the quality fabric set these items apart from an ordinary barn t-shirt!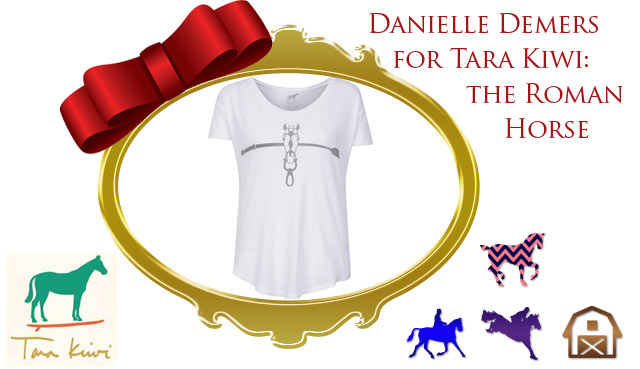 A newer product that I think is super cute and basically need is this adorable infinity scarf.  Since I never know exactly how to tie a 'fashion' scarf, infinity scarves are perfect for me.  Plus, the design is adorable and available in several colors.
The majority of Tara Kiwi's product line is aimed at adults, but they have some kid offerings too.  For the pony kids, the designs are a bit simpler and colors bright and fun.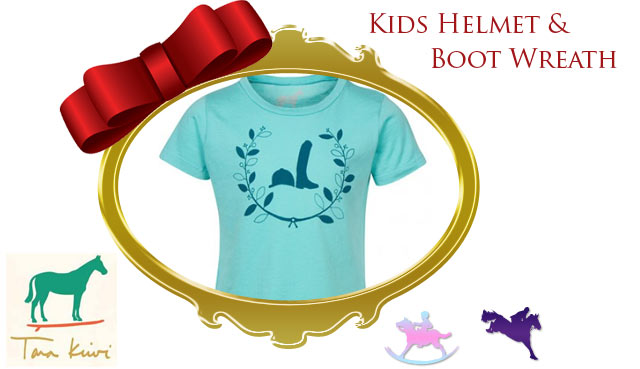 If you're a Californian and you have a really little pony kid, I think you need this onesie in your life.  It's adorable.  I would send one to my best friend who just had a baby girl, but she's already terrified that 'Aunt Lauren' is going to expose her child to all things pony (I am, don't worry).
A lot of the Tara Kiwi designs are tropical and west coast inspired.  If you look closely on the logo, you'll notice the horse is standing on a surf board.  Other designs have a little palm tree snuck in, which I think is pretty playful.  The "I Heart T.K." is a version of their logo and super cute if you're an equestrian that also loves the beach as well!
Finally, I'll end this showcase with a great giveaway sponsored by Tara Kiwi!  
Tara Kiwi is giving away one Danielle Demers for Tara Kiwi Show Pins shirt!
3/4 dolman sleeve tee is loose fit and runs true to size.  If you have a long torso or want extra length then you can easily get away with a size larger than your regular size.
To enter this giveaway, head over to the Tara Kiwi site and tell me which design is your favorite! Please also visit  Tara Kiwi on Facebook and Instagram give them some love – although this is not required for entering.
The winner will be randomly drawn on Monday, December 15th.  Entries close 12:00am US Central time on that same Monday.
A note about giveaways on She Moved to Texas:  This giveaway is a sweepstakes, and the winner is based on pure luck!  To comply legally with sweepstakes rules and regulations, giveaways on She Moved to Texas are limited to US residents 18 years of age and older.  You may always get an older guardian or US based friend to enter for you to legally receive any potential prizes.  Though I cannot give "entries" for liking our kind sponsors on social media, please take a moment to visit their pages since we want to support their generosity!
A big thanks to Tara Kiwi for sponsoring this giveaway!  I have enjoyed getting to know their products, and I hope santa brings me a Stirrup Bow under my Christmas tree this year 🙂