Equestrian Gift Showcase – Noble Outfitters
Equestrian Gift Showcase – Noble Outfitters
I have been a fan of Noble Outfitters ever since I reviewed some of their fantastic socks earlier this year.  Communication with their team has been excellent, and they have some great product offerings that seemed like a no brainer for the Equestrian Gift Showcase!
First off, gloves make an excellent gift for equestrians.  They fit in a stocking, are almost always useful and often even come close to that $20 mark that many Secret Santa gift exchanges have.  Noble Outfitters has a ton of great riding gloves, with these two being my favorites:
First, the Perfect Fit glove is a light weight, stretchy glove that comes in a variety of size options and colors.  Gloves like these are cheap at only $22.95 and are perfect for schooling at home or adding a little flair on a cross country course or barrel racing ring.  What pony kid wouldn't love pink zebra?  I'm not one for gloves in general, but I really like the navy bandana ones.
On the more serious side, Noble Outfitters offers the Ready to Ride glove.  This synthetic leather (vegan alert!  leather free!) glove comes in brown or black, and would look great in any show ring.
Equestrian accessories are always a solid way to go with the horse lover for the holidays, and Noble Outfitters has expanded their collection to include some cool new items.
This Equus Charm belt has a lot of equestrian flair for a very friendly price at just under $40.  In both black and brown, it'll work with show clothes or street clothes.
Bracelets also make an easy, reasonably priced gift.  They fit everyone, come in a variety of colors and are pretty chic with fall fashion.  The Havana/Blue one is my favorite here!
One of my favorite gifts for any serious competitor is a good ringside backpack.  All the junior riders at WEF had a backpack to fit all of their show day needs as they went from ring to ring.  Want to be like the cool kids?  Check out this cook pack from Noble Outfitters!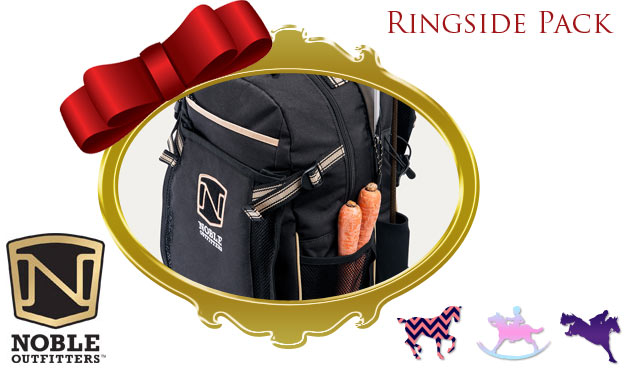 Finally, there is one truth that everyone should know when buying for an equestrian this year – you can never have too many boot socks.  As I previously reviewed, the Noble Outfitters has some of my favorites including these fun Over the Calf Peddies.
Like I said earlier, Noble Outfitters is always awesome to work with.  Proof of this is the fact that they're offering two cool items for a giveaway!  I'm giving away one pair of Ready to Ride Gloves and one pair of Over the Calf Peddies to two lucky winners!
To enter this giveaway, simply peruse some of the amazing gifts on the Noble Outfitters website and say you did so in the Raffle Copter widget above!  Please also visit Noble Outfitters on Facebook and Instagram give them a good 'ol "Like" – although this is not required for entering.
The winner will be randomly drawn on Friday, December 5th.  Entries close 12:00am US Central time on that same Friday.
A note about giveaways on She Moved to Texas:  This giveaway is a sweepstakes, and the winner is based on pure luck!  To comply legally with sweepstakes rules and regulations, giveaways on She Moved to Texas are limited to US residents 18 years of age and older.  You may always get an older guardian or US based friend to enter for you to legally receive any potential prizes.  Though I cannot give "entries" for liking our kind sponsors on social media, please take a moment to visit their pages since we want to support their generosity!
Thank you to Noble Outfitters for sponsoring this giveaway… and happy Cyber Monday shopping!