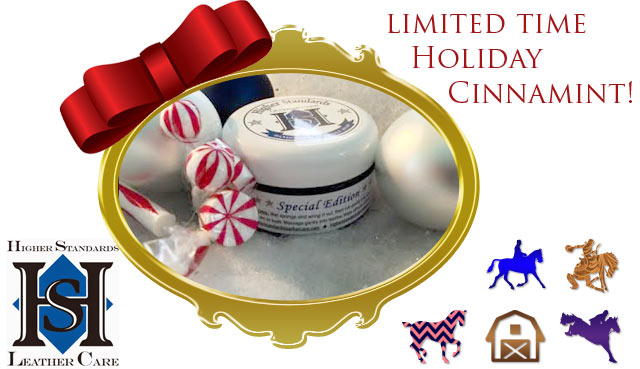 Equestrian Gift Showcase – Higher Standards
Equestrian Gift Showcase – Higher Standards
Many of you have heard of the amazing leather cleaning products from Higher Standards by now, but just in case you haven't let me share the delight with you!
The skinny?  It's fabulous tack cleaner that works as a cleaner and conditioner, and smells amazing.  I personally use the Fox Vanilla Lavender on all of my tack and prefer Higher Standards hands down to any other tack soap I've ever used.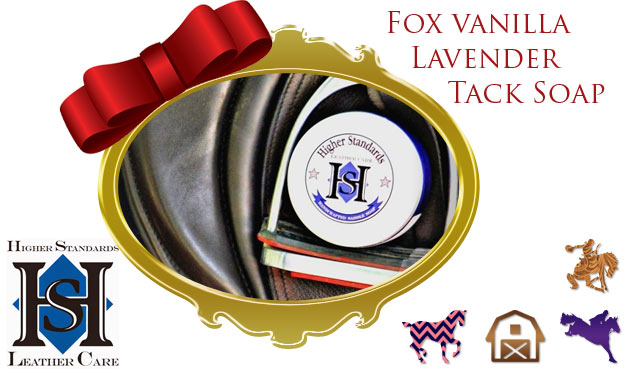 At $14.95 for a full size, this soap is comparable price wise with other soaps you'd get at the tack store.  However, I personally think the Higher Standards soap is a lot higher quality plus you get the added feel goody benefit of supporting a small business run by real equestrians like you!  🙂
Another cool thing that Higher Standards does is create limited time scents for holidays and other special promotions.  You can bet your mistletoe that they've got an amazing new scent for Christmas this year… and here it is!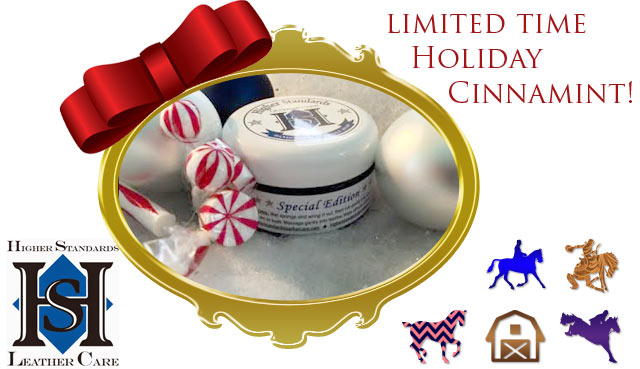 Want a little variety in your life?  Or can't decide between trying some soap or leather balm?  Check out this seasonal gift pack with Leather Balm, Buzz's Citrus Ginger soap and Ben's Rosemary Mint soap!  These mini contains make a great stocking stuffer or gift for the pony kid in your life.  What's better than a gift that teaches a pony kid responsibility about how to properly take care of all that expensive tack they also want for Christmas this year!  The small sizes are also great to throw in your trainer's show box to never leave home without good soap and conditioner.
Now that you're ready to go out and do some Black Friday shopping at Higher Standards to get amazing saddle soap for all your barn friends, I'll announce one more fun thing with today's showcase.
Higher Standards has graciously donated a Mini Gift Pack for a giveaway! To enter this giveaway, simply peruse the amazing products on the Higher Standards web store and say you did so in the Raffle Copter widget above!  Please also visit Higher Standards on Facebook  or Instagram and give them a good 'ol "Like" – although this is not required for entering.
The winner will be randomly drawn on Thursday, December 4th.  Entries close 12:00am US Central time on that same Wednesday.
A note about giveaways on She Moved to Texas:  This giveaway is a sweepstakes, and the winner is based on pure luck!  To comply legally with sweepstakes rules and regulations, giveaways on She Moved to Texas are limited to US residents 18 years of age and older.  You may always get an older guardian or US based friend to enter for you to legally receive any potential prizes.  Though I cannot give "entries" for liking our kind sponsors on social media, please take a moment to visit their pages since we want to support their generosity!
Have you tried any Higher Standards soap before? What scent are you coveting this year?