Another one lost to Apple
Another one lost to Apple
Let me tell you a story about me and the iPad.
When apple first released the iPad I laughed. "It's a big iPhone for $800!" I would say and scoff at the people who were foolish enough to buy one. Then marketing happened, and I slowly began to be sucked in.
Who were all these fun and hip people with iPads? Why am i not fun and hip? And why we're they so damn shiny? I needed a tablet like I needed a hole in my head.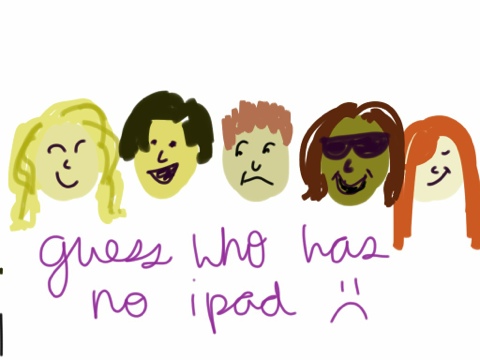 Flash forward to two years later. My laptop is on it's last leg and the ooooooo shiiiiiiiiny factor is stronger than ever with me and the iPad.
So after a very fortunate bonus check from work – is can finally join the cool people with my new toy. I'm blogging on it now only there are a few issues I need to work out- I can't type in a keyboard that isn't actually a keyboard worth a damn and i need a stylus for drawing like there's no tomorrow. I actually can draw, I promise.
For now, I think I just want to go watch downtown Abby in bed on my new tablet. Oh, how nice to be in the land of the cool and hip people finally… Cool and hip people use their iPad to watch girly tv and movies in bed without annoying their husband – right?