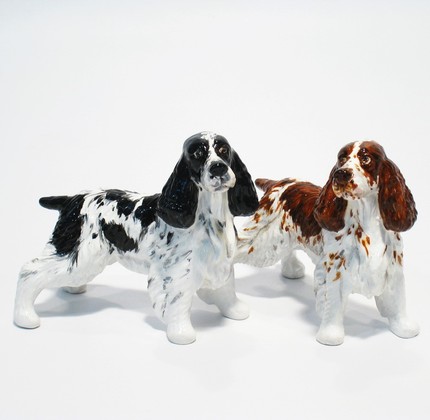 Adorable English Springer Spaniel Gifts on Etsy
Adorable English Springer Spaniel Gifts on Etsy
So I love dogs, that's pretty obvious.  What may or may not be obvious to you, is my small shrine of English Springer spaniel stuff.  Everywhere I go, if I see a dog store I pop in and look for cool Springer stuff.  Obsessive?  Yes a bit maybe.
Another great place to look for unique gifts for the dog lover your life is online, and for that I like Etsy.  Stuff is hand made on there by different artists, and though I'm just going to feature English Springer Spaniel stuff on here today – they have zillions of breeds.  You can even find breeds that many major stores don't carry, like pit bulls.  I got my future sister in-law some ADORABLE pittie magnets from Etsy last year.  They weren't too expensive, a thoughtful little present, and money goes to the artist who made them.  Thumbs up!
Springer Spaniel Salt & Pepper Shakers – I actually have these and they are SO CUTE.  The thing I like about them, is that they're not overly cutesy… and is actually a good representation of the breed, although it should be noted that they look better sitting on a shelf than they actually would be functional as salt & pepper shakers.
English Springer Spaniel Wood Art – how cool is this?  My grandfather used to carve things out of wood, and make puzzles and toys… this may be a sentimental favorite for me but is also a really nice photo realistic representation of the breed.  It's a bit pricier at $150, but I think that's a great price considering the amount of work that goes into something like this and it's size – about a foot tall.
English Springer Spaniel Placecards – Too bad I found these only a week before the wedding, hah!  I don't know what I'd ever use them for, but I just love that classic springer silhouette!
Whimsical English Springer Spaniel Pin – While I'm not a huge pin person, who could resist this happy little dog?  Eliot does a lot of flying leaps and bounds with the similar goofy expression on his face.  And for $13 you can't beat a neat little custom made and glazed clay pin.
English Springer Spaniel At the Beach Print – When my springer is at the beach, he's more joyfully bounding and rolling in the sand and water than he is sitting and looking pensive – but at the same time I really like this print.  It's colorful and peaceful and features a beautiful springer!