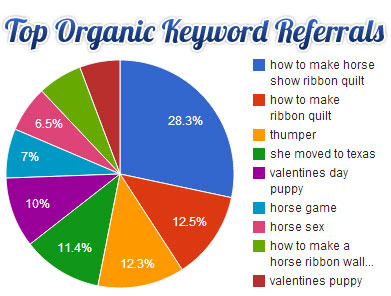 1st Blogaversary – SEO Factoids
1st Blogaversary – SEO Factoids
Part of my real life non-horse blog job is SEO otherwise known as Search Engine Optimization.  Since part of the reason I have this blog is sort of a playground to test out ideas that I may use in my marketing job, SEO is something I pay attention to.
Here on the blog, that means I title some posts and post URLs with specific keywords that other horse minded folk may search for… that is I do when I'm feeling productive.  From these efforts, I have gotten a decent amount of organic traffic to this blog in the past year.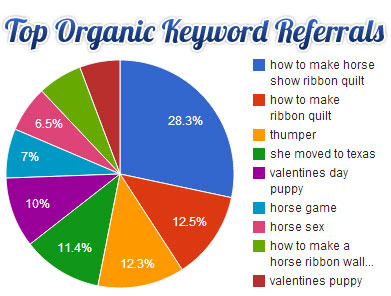 Some of them… super random.  Horse sex?  I have my sheath cleaning post to thank for that (and y'all did warn me).  "Thumper" may seem also random, but I have an image of Thumper the rabbit from Bambi on one of my posts and these organic charts include google image searches.
Topic wise, did I manage to get anyone to my blog that actually wants to read its content?
Overall, most of my referral topic makes sense for my blog.  I get a ton of hits for my how to make an equestrian ribbbon quilt post as well as some of the other DIY equestrian adventures here.  For the most part, I get a lot of traffic from cute picture of Valentine's puppies.
Aside from pie charts, my favorite part about looking into my SEO results is the completely random things people search to come here.  Like… who really does these searches?
Here are some of my favorites:
Napoleon girls pony ride
Are fox hunters snobby or nice
First time horse sex (THERE SHOULD NOT BE A FIRST OR ANY TIME)
Horse buttons that say push me
How to piss off an equestrian
My husband thinks I spend too much  money on my horse (Mine too, honey)
Stallion sex offenders
Wants horse shouldn't buy (story of my life)
Would it be bad to clean my horse sheath with lesson kids around
Do you pay attention to any SEO when it comes to running your own blog?